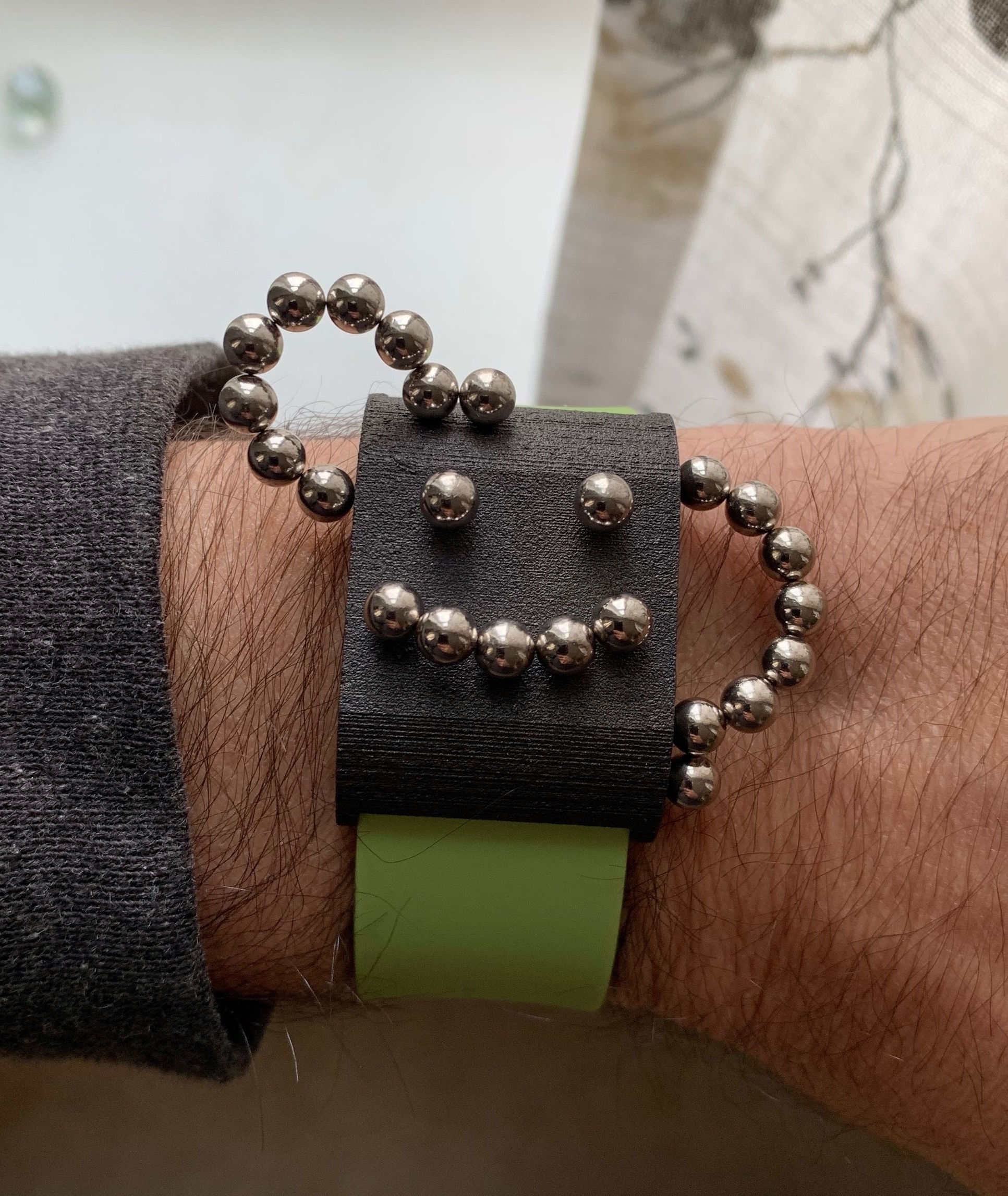 Mag-Go
A magnetic friend wherever you go.
Ride the train or surf the couch with Mag-Go™ on your wrist. Create geometric structures, letters, faces, and anything else you like with 24 magnetic spheres that cling to Mag-Go and each other.
Magnets may stick to other things in your environment so when you're done playing, stash the magnets safely in the belly underneath Mag-Go and carry on with your day.
24 magnetic spheres included, each 5mm in diameter.
Mag-Go is 3D-printed in black steel and paired with a 24mm wide graphite, aqua, tea, sunflower or ruby silicone strap. Allow 4 weeks for custom printing, quality assurance, and delivery.
Take Care
Do not place Mag-Go's magnetic spheres on or near your smart phone or other electronic devices. The magnetic powers emanating from the spheres (flux index <30) may cause harm.

Do not insert magnets into any part of your body.

Ages 13 and up. Always keep magnets away from children.
Specifications
In: 1.57 x / 1.152 y / 0.505 z
Mm: 39.88 x / 29.26 y / 12.82 z
Material Volume: 4.16 cm³

Designed and made in the USA
Patent pending
sold out
Stashing magnets
The belly under Mag-Go is designed to fit 19 magnets in a "Wrap" — a series of rows of 3, 4, 5, 4, 3 magnets — that form a hexagon (see instructions in the photo gallery). The 5 extra magnets are back-ups in case you lose a few :)

How is this 3D-printed?
Steel (60% Stainless Steel / 40% Bronze matrix material)
Super tiny drops of glue are deposited onto layers of stainless steel powder until the Mag-Go shape is formed. It then goes through an infusion process that replaces the remaining glue with bronze, creating a completely solid metal object. Finally, Mag-Go is processed by hand to achieve the finish and then coated with a sealant.
- EXPLORE OBJECTS -